These instructions contain more than 280 step-by-step photos to show you how to make the "VARA" bag by Hansedelli.
The total sewing time is around 4–7 hours, however the amount of time required depends on the version you choose to make and your personal sewing ability.
The instructions are so detailed that even a beginner, who has only ever made one or two bags before, will have no trouble making the VARA bag.
This is a digital sewing instruction in english. It comes in A4-PDF format, therefor open and print the pattern pieces/ebook using Adobe Acrobat Reader, which is available as a free download. Using another PDF reader may lead to pages being shown incorrectly. You will also need a printer to print the pattern. No ebook reader is needed.
Difficulty: 3 of 5
Working time: about 4-7 hours
VARA is a small shoulder bag in a modern, geometric design that matches its big brother the "VARO backpack". It measures approx. 25cm x 30cm making it an ideal, everyday handbag.
VARA can be made as a simple, single-compartment shoulder bag or with up to 2 outside pockets – these can be placed at the back or at the front hidden by the flap. You're free to choose if and where you want to add an outside pocket. You can also choose between a zip fastening or a magnetic snap. Instructions for both versions can be found in this ebook.
The bag is closed with a flap that is held in place with a magnetic snap. Additionally, you can also secure the main compartment with a zip. For beginners, I recommend making the bag without the zip.
There is a small pocket on the inside where you can keep little bits and bobs. Because of the optional outside pocket, the inside pocket does not feature a zip.
You decide whether you simply use webbing as a strap or whether you sew suitable straps yourself. Choose either a long strap to hang around or short elegant straps for a VARA outgoing bag. Free instructions for both types can be found here on the website in the Tutorials.
As a rule, I recommend you always use water and dirt-repellent outer fabric for a bag so that you'll get the maximum use out of it. I recommend to use not-too-thick artificial leather for the outside of this bag. Thick artificial leather should only be used for the base of this bag
If you want to use canvas, thin coated cotton or thin artificial leather, some pieces should be interfaced. If you want to use thicker artificial leather or oilcloth, you do not need to reinforce it. In order to accentuate the curves of the bag, the inner pocket is interfaced with fusible volume fleece (alternatively thin foam interfacing or Thermolam).
These instructions use interfacing from Freudenberg (Vlieseline/ Vilene), which are named with the Vliesline designation. But in the pattern you will also find alternatives which are available in the USA.
Copyright
© 2018 All rights are reserved by Lisa Kienzle – Hansedelli. Transferring, exchanging, copying or publication (even in part) of these instructions is strictly prohibited. No liability is assumed for errors contained in the instructions. Do not copy this pattern, claim as your own or allow others to use it. This pattern may be used for personal and small businesses producing limited quantities only.
If you do use this pattern to produce items for sale, please include the following information: "This bag was made by using the pattern VARA by Hansedelli".
List of materials
Fabric:
– Fabric 1 approx. 35cm x 70cm (LxW) (outer upper section) (cotton/ canvas/ coated cotton/ artificial leather or similar)
– Fabric 2 approx. 25cm x 70cm (LxW) (outer lower section) (coated cotton/ artificial leather or similar)
– Fabric 3 approx. 25cm x 35cm (LxW) (outer flap) (cotton/ canvas/ coated cotton/ artificial leather or similar)
– Lining approx. 50cm x 130cm or 70cm x 110cm (L x W) (depending on fabric width) (incl. all outer and inner pockets)
Interfacing:
– 30cm of each Vlieseline volume fleece H630 and H640 (alternative for H640: thin foam interfacing or Thermolam)
– 50cm Vlieseline H250 or S320 if required
– small pieces of heavy stabilizer for the magentic snap
Additional:
– 1.5 m webbing 25mm wide (or make your own straps)
– 1x strap adjuster 25mm wide
– 2x square rings 25mm wide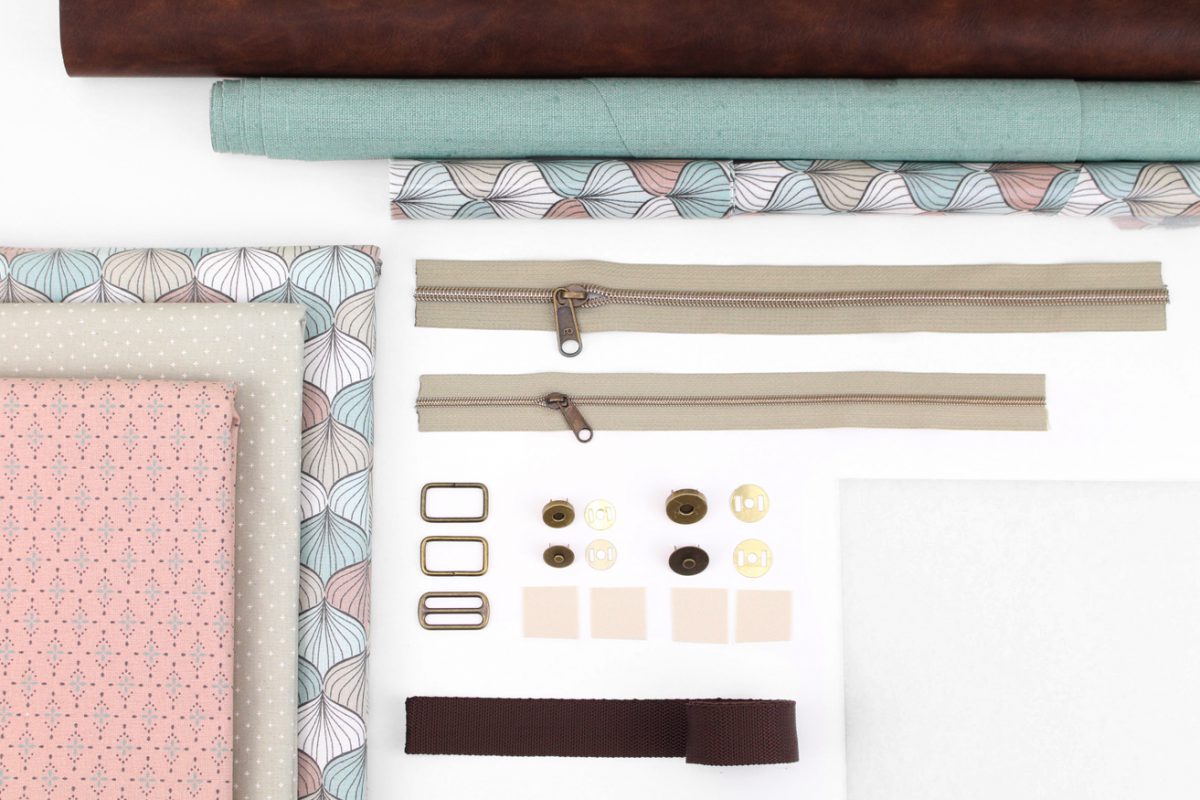 Optional:
– 1x small magnetic snap (e.g. 14mm) for the outside pocket
– 1x large magnetic snap (e.g. 18mm) for the flap
– 1x narrow (25mm wide) zip 28cm for outside zip pocket
– 1x wide (30mm wide) zip 35cm for main compartment
I recommend to use a "zipper-by-the-meter/-yard", as this allows you to cut off precisely what you need.
Other used tools:
Marking pen, fabric clips and pins, lighter, corner and edge shaper, iron, special foot for artificial leather, zipper foot, scissors, sewing machine