These instructions contain more than 400 photos, where I show you step by step how to sew the small crossbody bag "Little Foksa" by Hansedelli in about 6-9 hours (or about 3-4 hours for "Variation B"). This pattern is suitable for advanced sewers, but the instructions are so detailed that even a beginner, who has sewn some bags before, will have no trouble making the "Little Foksa". Without the zip compartment (Variation B), this bag is a beginner friendly, quick sew project.
These digital sewing instructions come in English and in A4-PDF format. It uses European sewing standards and metric measurements, but inch measurements and US alternatives (e.g. for interfacing) are also given. Open and print the pattern pieces/instructions using Adobe Acrobat Reader, which is available as a free download. Using another PDF reader may lead to pages being shown/printed incorrectly. You will also need a printer to print the PDF-pattern which comes in A4-PDF format as well, but also fits to US-paper size.
Difficulty Variation A: 3,5 of 5
Working time: about 6-9 hours
Difficulty Variation B: 2,5 of 5
Working time: about 3-4 hours
The bag Little Foksa is a small crossbody bag and measures approx. H 20cm  x W 12cm (H 7 7/8″ x W 4 3/4″) and offers enough space for "the essentials". It is also able to accommodate a small wallet, such as the "Little Mynta".
The bag can be sewn either with a zip compartment as wallet replacement (Variation A) or as a just a mobile phone crossbody bag (Variation B).
The bag flap can be closed using a press lock, snap fastener, twist lock or other suitable bag closure. You can also add a strap to the flap or choose from the different flap shapes provided in the pattern.
For the strap you can choose between webbing, leather strap, bag chain or cord. All four options with matching strap connectors are illustrated in this ebook.
On the back of the bag Little Foksa there is a zipper pocket where coins or other small items can be safely stored.
Inside of the bag little foksa
Inside there are several compartments – including a "hidden compartment", which is not directly accessible when opening the bag. A pen holder as well as a key holder or a mini wallet can be integrated. The accordion gussets prevent anything from falling out to the side. Small items and important things can be stowed in the zip compartment. In addition, you can choose from three variations.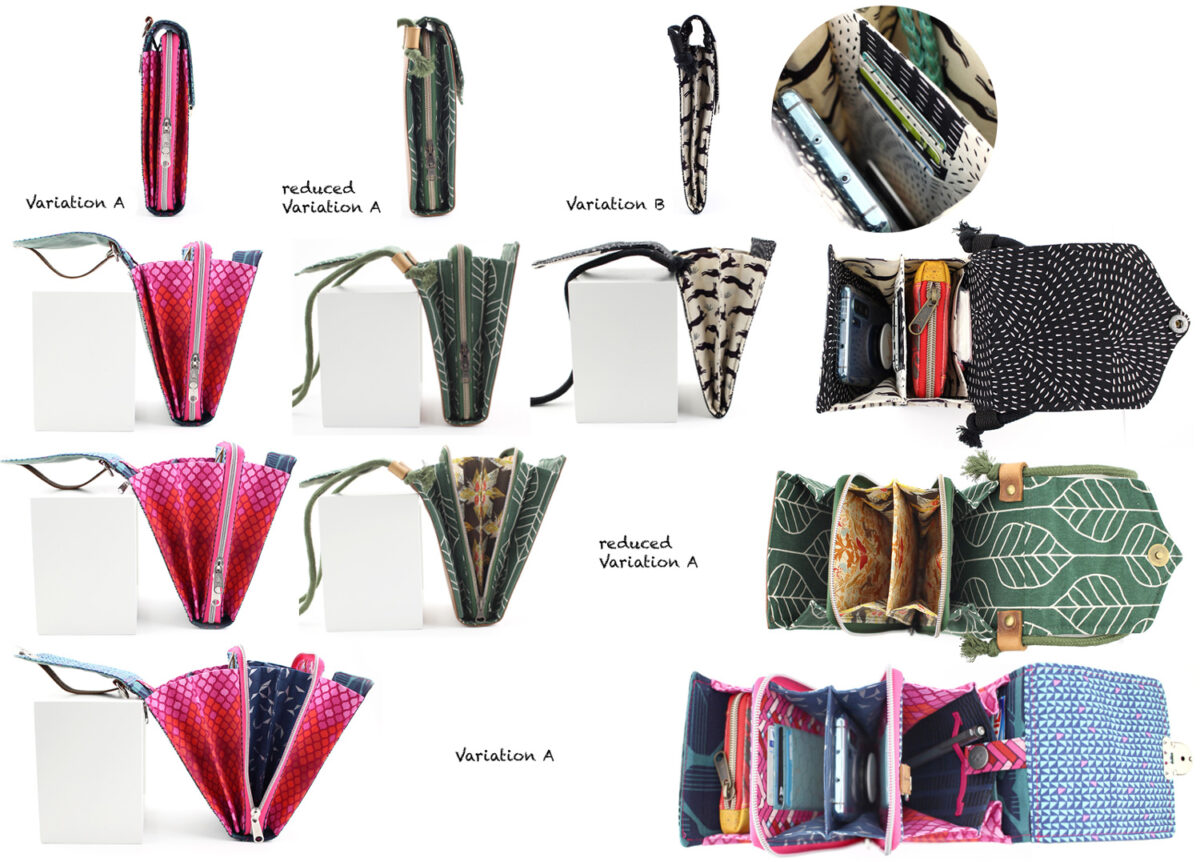 Here you can see the different flap shapes and a selection of possible closures. In this e-book I will show you how to attach a press lock. For more photo tutorials of bag closures click here.
You can add a decorative strap to the square flap, which creates a highlight on the flap. You should use a press lock (at least as wide as the finished strap) for this.
The flap strap can also be used with the triangular flap. Here it should be used as a functional closure in combination with a swivel hook and d-ring.
The flap strap is rather unsuitable for the "Speech bubble" flap, as it would completely hide the tip of the bubble. A twist lock is more suitable for this.
The leaf structure of the leaf flap is created later by topstitching. Here, you can use a magnetic snap (less suitable for "Variation A", because this snap may not be strong enough to hold the bag closed).
The fox flap will make the heart of all forest animal lovers beat faster. Choose other colors and it can be a badger, raccoon, hedgehog, etc. With this flap, it is also a nice idea to choose a snap fastener that also represents the animal's nose.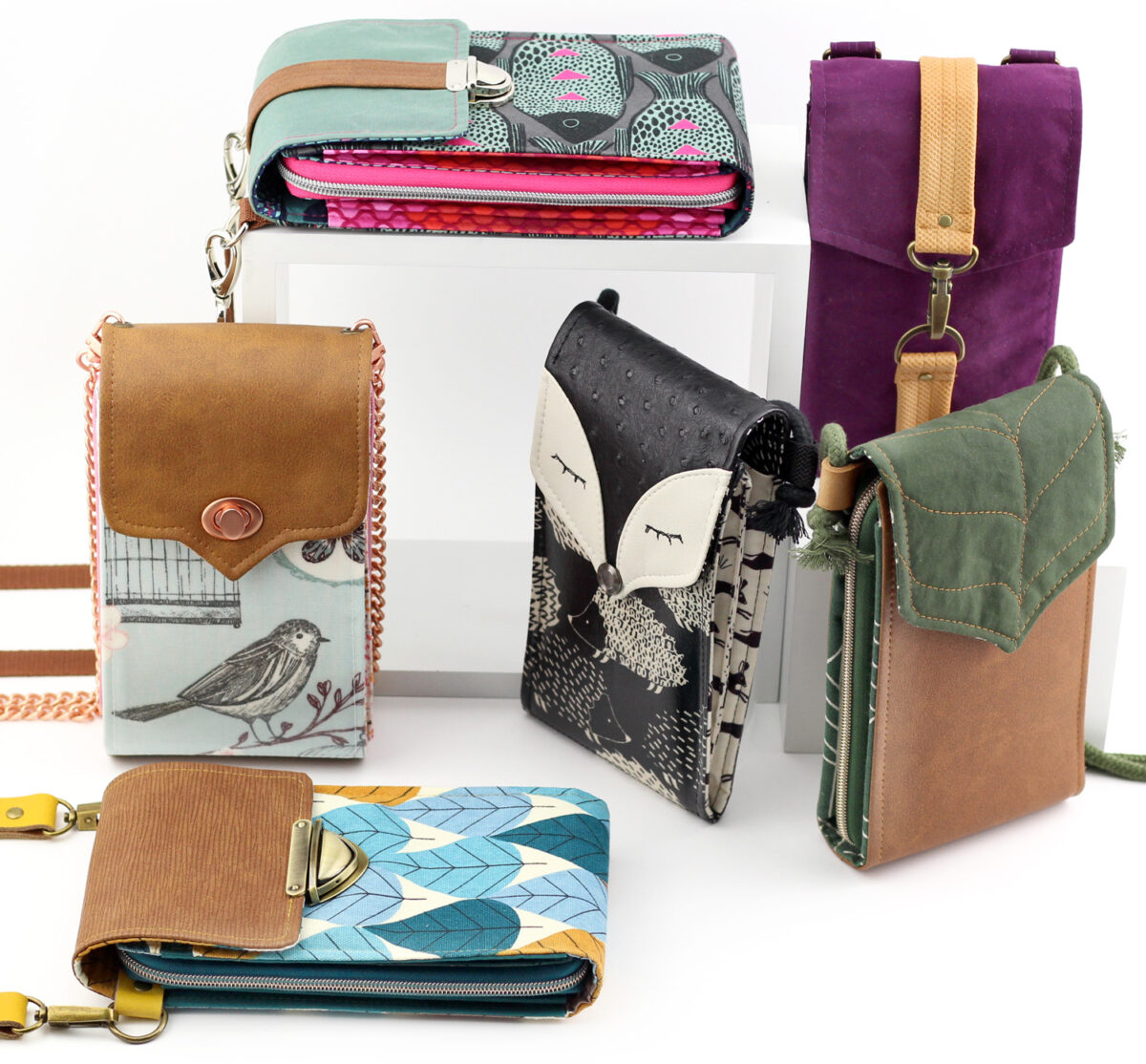 strap connectors and bag straps
You can choose from a variety of strap connectors and bag straps – all of these are illustrated in the ebook. If you want to make your own strap, you can find free tutorials here.
Strap connectors made of webbing can be sewn into the back or sides. Strap connectors made of real leather are attached to the side with rivets/ Chicago screws.
Make your own bag strap from webbing or leather. You may need two matching swivel hooks to attach the strap to the strap connectors.
The bag chain can be attached directly to the flap using two small eyelets.
With the cord strap, the cord is just passed through the strap connectors and knotted.
Copyright
 © 2021 All rights are reserved by Lisa Kienzle – Hansedelli. Transferring, exchanging, copying or publication (even in part) of these instructions is strictly prohibited. No liability is assumed for errors contained in the instructions. Do not copy this pattern, claim as your own or allow others to use it. This pattern may be used for personal and small businesses producing limited quantities only.
If you do use this pattern to produce items for sale, please include the following information: "This bag was made by using the pattern Little Foksa by Hansedelli".
List fo materials (click to open)
Fabric:
– Exterior fabric 1 in H 25cm x W 35cm (10″ x 14″) (bag body)
– Exterior fabric 2 in 15cm x 15cm (6″ x 6″) (flap)
– optional Exterior fabric 3 in 15cm x 15cm (6″ x 6″)
– Lining fabric about 1m / 1 yard ("Variation B" 50cm / 1/2 yard)
Interfacing:
– 25cm (10″) of light weight fusible interfacing
– 25cm (10″) of medium weight fusible interfacing
– 15cm (6″) of low loft fusible fleece
– 25cm (10″) of heavy fusible stabilizer
Additional:
– 15cm (6″) webbing 20-25mm (3/4″- 1″) (strap connectors)
– if necessary 2 square or d-rings 20-25mm (3/4″- 1″) wide
– Bag closure (press lock, twist lock or similar)
– about 100-130cm (40″- 50″) strap 20-25mm (3/4″- 1″) wide (e.g. webbing, leather strap, bag chain, thick cord)
– 11cm nylon coil zipper, 2.5cm wide (4 5/16″ #3) + 1 slider
– 55cm nylon coil zipper, 3cm wide (21 5/8″ #5) + 2 sliders
Optional:
– 10cm elastic band about 1cm (1/2″) wide (as pen holder)
– 1 snap fastener (for divider closure)
– 1 swivel hook 20mm (3/4″) + piece of ribbon (key holder)
– 2 swivel hooks 20-25mm (3/4″- 1″) wide (for strap)
– if necessary 1 strap adjuster 20-25mm (3/4″- 1″) wide
– 2-4 rivets or Chicago screws (leather strap)
– 2 eyelets 6-8mm (1/4″- 3/8″) inner diameter (for bag chain)